It is not every day that an animal is born with different colored eyes or markings that look like a full-on mustache on its face. Most animals are endearing from the time they are born, but animals that have appearances so unique stand out even more. Scroll through all of these one-of-a-kind critters, and see the special gifts that Mother Nature decided to bestow on them. We've never seen anything quite like them!
Lucky Number Seven
Baby cows or calves are extremely endearing. They stumble around on spindly legs and learn about their place on the farm. Cows tend to come in shades of black, white, brown, and sometimes a nice roan color. This calf came out with a very lucky marking smack dab in the middle of its face. 
In many cultures, the number seven is considered to be lucky, and this calf has a clear seven on its face. Whoever owns this calf must have had felt like they had been blessed with good fortune.
Natural Eyebrows
Nowadays, the standard of beauty for eyebrows has moved towards that au natural look. The 1990s were all about pencil-thin brows, and now thick brows like actress Lily Collins' are all the rage, and Mother Nature was definitely smiling down on this dog when he was born.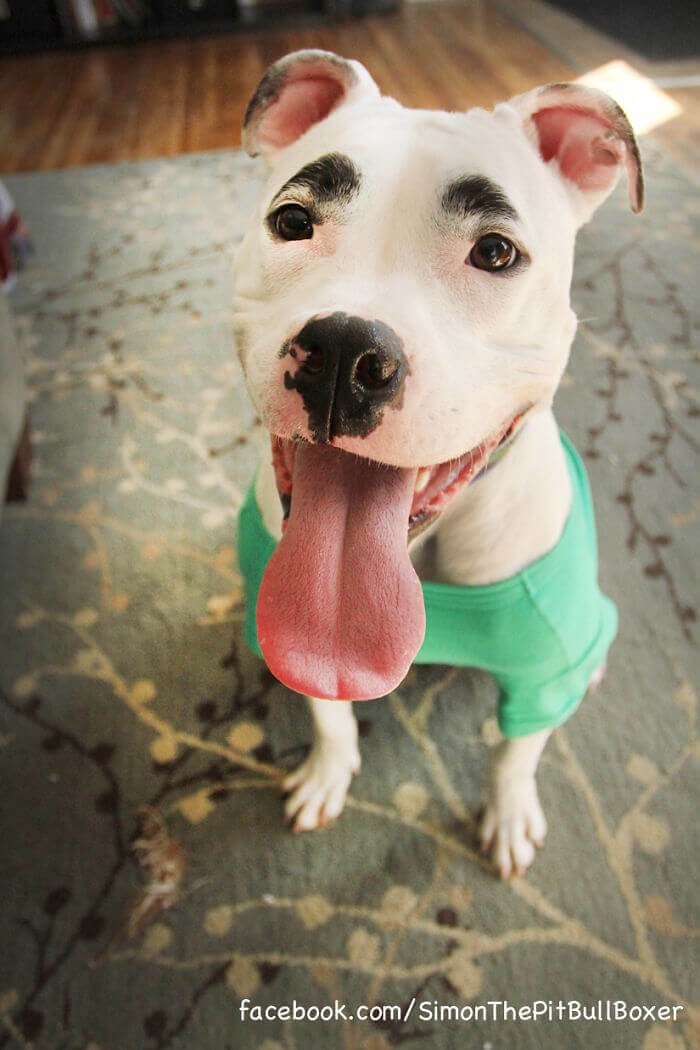 Most dogs don't have 'eyebrows' but this little guy certainly does. He has nice thick black brows, which are the envy of every woman. It literally looks like someone took a brow brush and carefully painted them on.
A Look Of OMG
It's not often that memes manage to come to life, but this cat managed to recreate the 'OMG cat' meme that began circling around the internet in the 2000s. That little black dot is not an open mouth, but instead, a black furry chin.
Whenever this cat's owner looks at its face, all they must be able to see is the cat going, "OMG" over whatever is happening. It must be hard to tell when this little cat is actually surprised, and not just going about its business.
Have A Little Heart
Everyone needs a bit of love in their lives. The heart, and not the kind that is found inside of bodies, has always been a symbol of love. It must have been quite the surprise when this calf was born and was literally covered in love.
This little fella has a big white heart on the crown of its head. This has to be a sign that this calf will have a happy life full of love on its farm. Nothing but good vibes are coming off of this little one.
Two-Faced
Cats are known for being wily little creatures. They love slinking around their homes, casually knocking glasses off of tables, and staring intently at their owners. Sometimes those stares make it look like the cat might be trying to use a mind-control technique to get their dinner served early.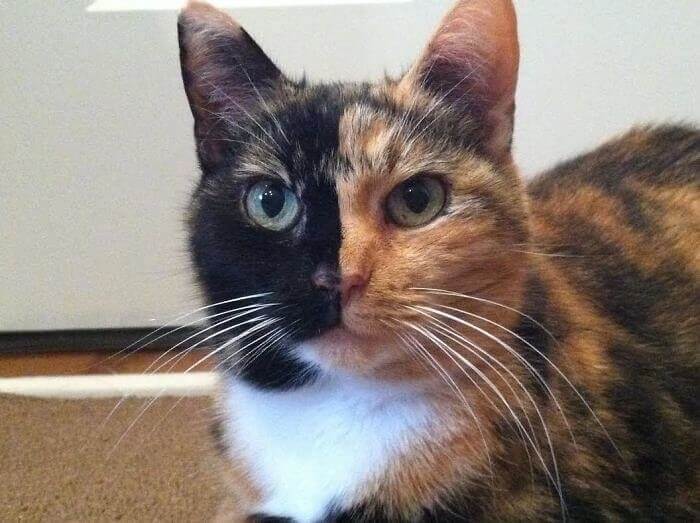 Instead of a cool shape, this cat was born with a two-tone face. On one side it has black fur and on the other calico colored markings. The line down the center of its face which perfectly separates the two sides only adds to the uniqueness of this coloring. Does this cat know how special it is?
Peace And Love
Reptiles are the closest thing we have to real-life dinosaurs. Most pet turtles are rather on the small side, but that doesn't stop them from looking like modern-day prehistoric relics with their shells and special markings. At first glance, this turtle appears to be perfectly ordinary.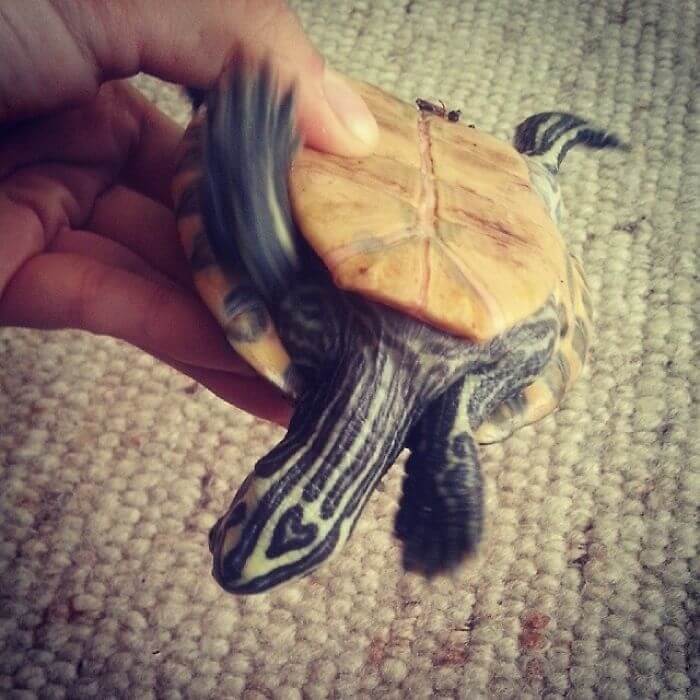 As soon as this turtle is flipped over, it becomes clear that there is something unique hiding underneath its chin and shell. Not only is the symbol for peace etched into the underside of the shell, but a tiny chin-sized heart is also present. This little turtle is just spreading peace and love wherever it goes.
A Big Hug
Everyone needs a big hug now and then, especially for people whose love language is physical touch. If we had to guess, this black and white feline friend likes to be hugged all the time. Or at least, that is what it looks like. Have you ever seen a cat that has markings that look like another cat hugging it?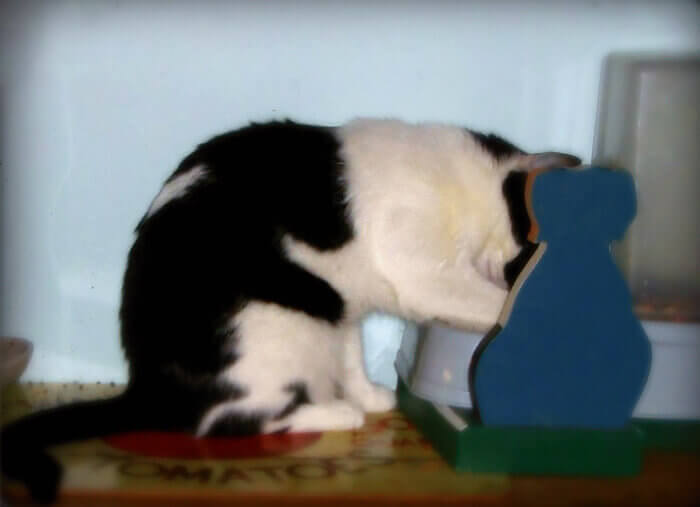 This has to be one of the wildest fur coats we have seen to date. It actually appears as if a black cat is hugging a white. This might just be the angle, when the cat is walking around it probably looks like a black cat is riding on its back.
Feeling Angelic
Angels and demons make for good stories. It seems as if the two are constantly battling each other in the fight between good and evil. This dog appears to have already chosen sides judging by the very obvious marking on its sweet face. 
The color white is usually associated with angels, but this dog has a full-on black angel pasted on its face. If its owner is looking for a sign that they have a good boy, then they need to look no further. This is the best of the good boys, and this pup has an angelic face to prove it.
Chaplin The Cat
This wee black mustache might look a tad familiar. In the 1920s, silent film star, Charlie Chaplin became a household name. He was well known for his on-screen antics, his bowler hat, and his little mustache. In a throwback to that era, this cat in Estonia was born with a very unique marking right under its nose.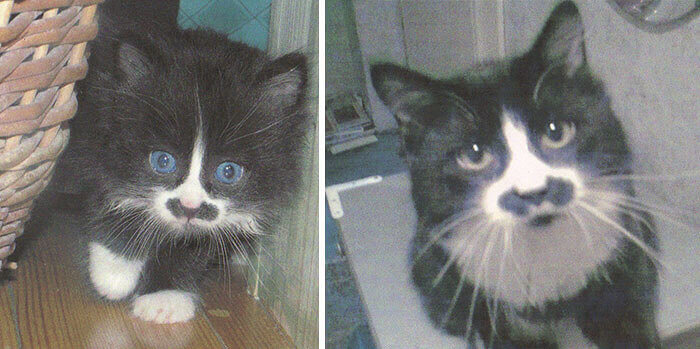 If you believe in reincarnation, then this cat might just be Charlie Chaplin because its face looks remarkably like the human Chaplin. The little black mustache is the exact same shape and size as Chaplin's was. It must just be a coincidence, right?
Bjorn That Way
Many television shows have risen in popularity through the years, but one historical drama featuring fearsome Norse Vikings has stood out from the rest. If you guessed History channel's Vikings then you would be correct. This little husky pup looks just like one of the main characters on the show.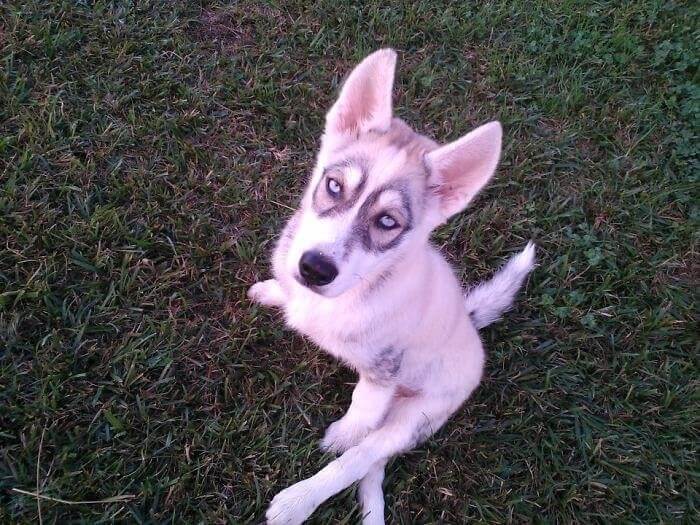 Bjorn Ironside was kind of the Vikings for a time, and this pup looks just as regal as his namesake. If a dog was going to be ready for battle, it would be this one, he even has permanent fur paint around his eyes.
Full Of Love
Cats love to prowl around, and if they are feeling particularly catty, give their owners the cold cat shoulder. Unlike dogs, cats will only bestow their affection when they feel like it, not when owners ask for it. This calico cat's fur makes it look like it is full of love.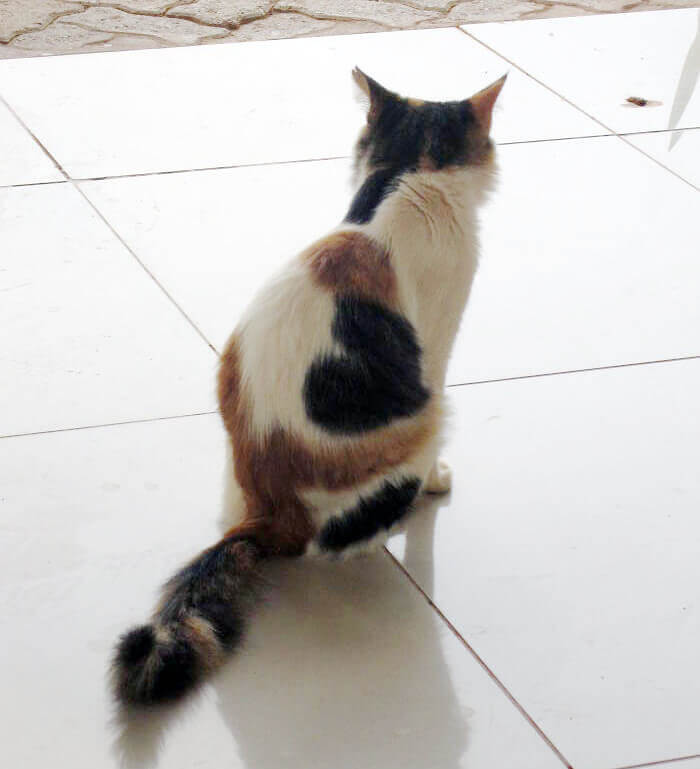 The giant black heart on its back makes it look like it should be featured on a Valentine's Day card. We doubt this cat knows that it has a heart on its back, or that it should warm the hearts of every person it comes into contact with, though. But maybe it has a loving personality, who knows.
Ready For A Close Up
Anyone who wears makeup knows that it can take an hour or more to apply a social media-ready face. That doesn't stop anyone from spending hours on their makeup all for a one to three-minute reel or TikTok video. This dog doesn't have to worry about getting ready for the camera though.
Due to the coloration of its fur, this good boy has perfectly manicured black eyebrows that are always photo-ready. Even in this photo, the dog is staring off into the distance and giving its best impression of Derek Zoolander's 'blue steel' pose.
Is That A Heart?
Hearts seem to occur naturally on pets' coats far more often than we had thought. In yet another example of a heart, or perhaps another piece of anatomy, we have a black and white cat. The upper part of the heart can be seen on the lower back, and a very long bottom of the heart is the tail.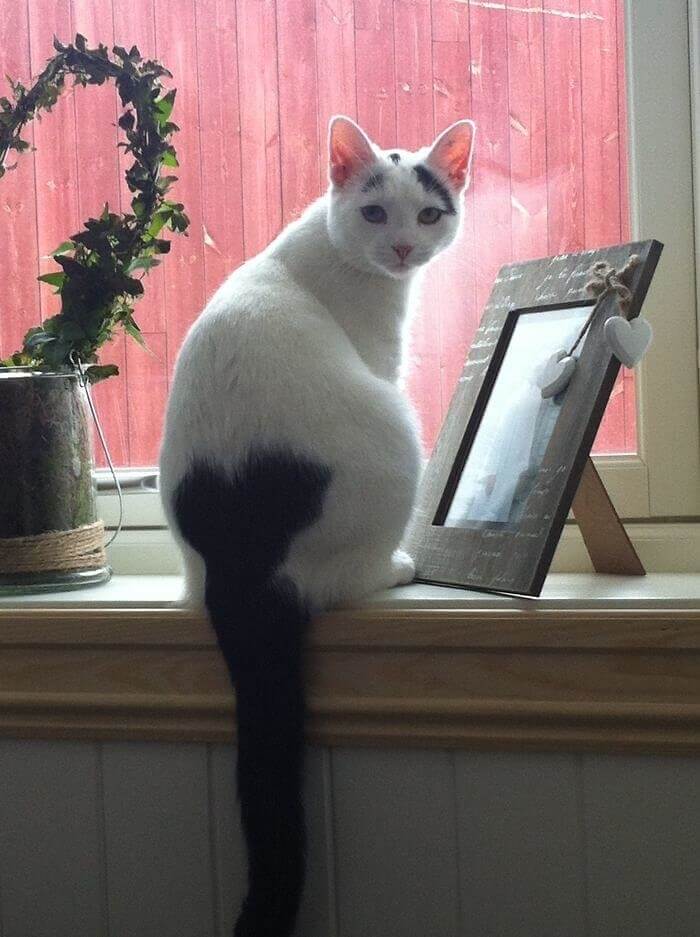 This little cat seems to know that it has a unique heart on its back. The look it is giving the person taking the picture appears to be less than impressed though. Maybe that heart is reserved for someone special.
Meet Richard
There comes a time in every young dog's life where they realize that there might just be a reason for all of the attention they get. In this dog's case, it is not because it has a heart on its back. Instead of a heart, this dog has a piece of anatomy normally found on those of the male persuasion.
We can only assume that this dog is named Richard, which has one nickname associated with it that is also a common slang term used for this piece of anatomy. This dog must be used to hearing a few chuckles whenever anyone recognizes the marking.
Here Comes Bat-Cat
Batman is one of those comic book characters that have a certain iconic symbol associated with them. The bat symbol which is beamed into the sky whenever Batman is needed in Gotham City is one that shows up in every Batman film, and now on this little kitten.
Take a look at the little black marking under this leaping kitten's nose. Instead of a Charlie Chaplin-esque mustache, it is almost a perfect bat-shaped symbol. This kitten is ready to take on some bad guys and continue Batman's work.
Black Or White?
Most cats have a dominant undercoat color, like black, white, or even marmalade. However, this cat's fur seems like it can't decide if it wants to be primarily black or white. The white markings that poke through make it look like a bottle of ink was spilled all over the cat.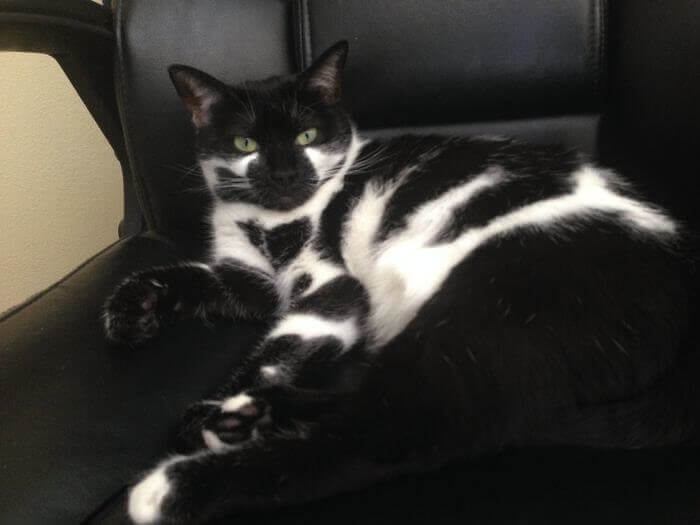 That spilled ink slowly dripped down the sides of what would have been a white cat, and now this mottled black and white cat is the result. In reality, this is just another case of Mother Nature bestowing her unique gifts on this feline friend. 
The Arrival Of Bat-Dog
We have seen Bat-Cat, but now it is time for the canine version - Bat-Dog. Puppies are little balls of energy that need to run around, sleep, and play just like human babies. During a rare moment of downtime, this owner managed to catch the puppy's comic book marking on camera.
Like the kitten we saw before, this little guy has a perfectly shaped white Batman symbol on its chest. Maybe this puppy can pair up with the kitten and fight the bad guys of Gotham City together. Everyone needs the Robin to their Batman.
The Pursuit Of Love
This picture is a bit of an optical illusion. The white cat immediately stands out, but there is another black cat in this picture as well. Look very closely, and you will see the black cat twined around the black and white cat. These two are clearly enjoying a cat cuddle session.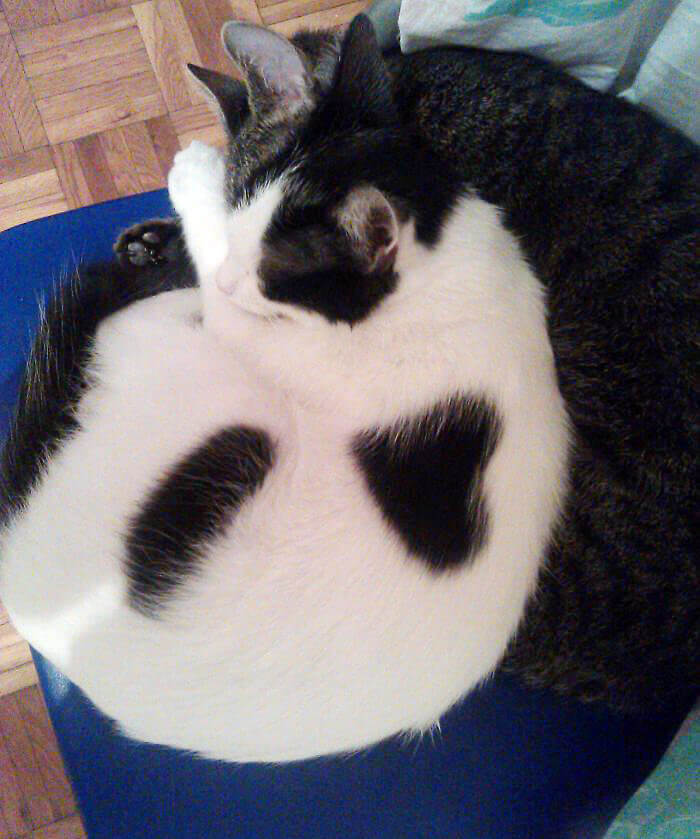 The carefully drawn-on black heart makes it look like the owner might have spray-painted it on. This is yet another case of Mother Nature adding a heart to show off how much love this cat has to give.
A Hidden Heart
Most pets have hidden markings that make them recognizable to their owners, and in some cases totally unique. Cats love to roll around and show off their bellies. That doesn't mean they want a pet, though, as this can be a danger zone like all cat owners know. Some cats like a pat or two, some really, really don't.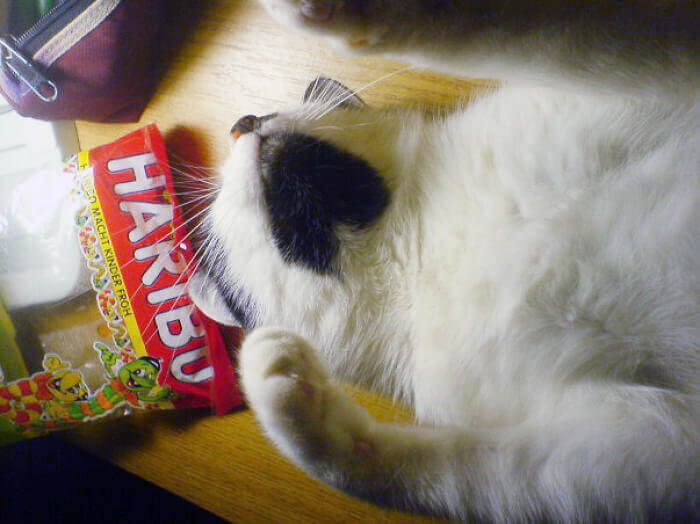 This owner is always able to recognize their cat as soon as they see their belly. Underneath their chin is a perfect black heart, which is just the cutest little thing.
Eugene Levy In Cat Form
Anyone who has seen the American Pie movie franchise or Schitt's Creek knows all about the comedic acting chops of Canadian actor, Eugene Levy. Besides being laugh-out-loud funny, he also has pretty noticeable black eyebrows, which his son and fellow actor Dan Levy has inherited.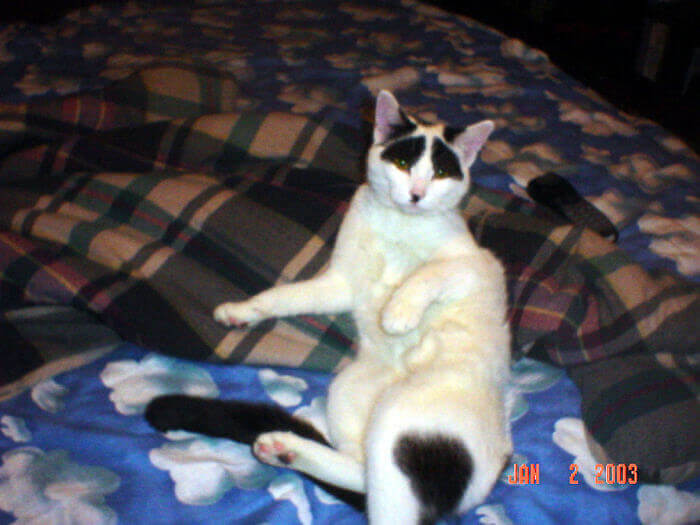 If the Levys were going to own a cat, it would be this one. Just look at those eyebrows, this cat has to belong to the family. It really has the Levy eyebrows and looks like it is ready for a guest spot in one of their television shows or movies.
Question Mark
In life, there are many big questions which people need to answer. One of which is asking the age-old question, "What is the meaning of life?" This cat appears to be going through an existential crisis and can only ask questions, not answer them.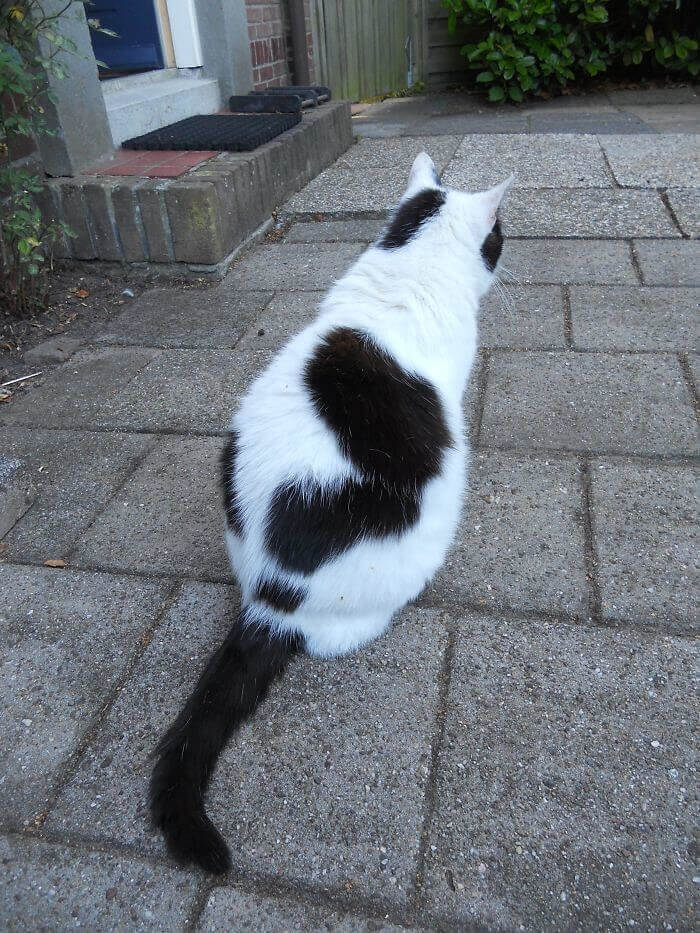 Luckily, the giant black question mark on its back makes it easy to ask questions and have perfect punctuation at the end. Maybe this cat will figure out the meaning of life, and share the answer with the animal kingdom.
Nice Mustache Buddy
Men who grow beards and mustaches know how tough it can be to maintain a nicely groomed one. You have to wash it, occasionally condition it, and for mustaches, even wax the ends of it. It really depends on how groomed a man wants that beard or mustache to be.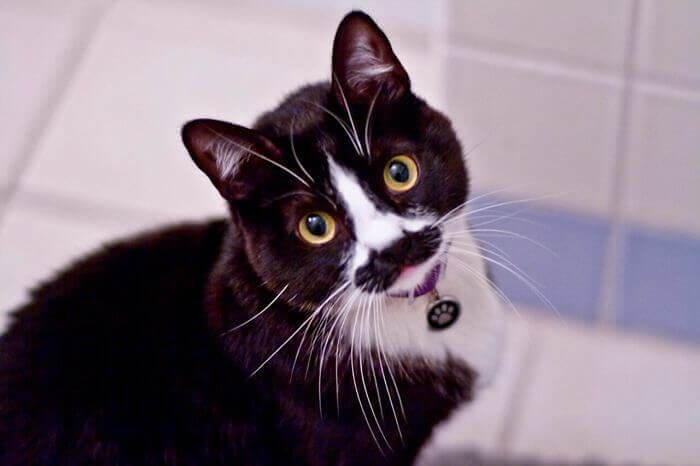 This little cat decided to show off how perfect its mustache is, and how low maintenance it is. All this kitty needs to do is occasionally lick a paw and smooth its fur mustache down to make it look flawless.
Mickey Mouse In The House
Every brand has a logo, and in 1927 a certain character that would be synonymous with Disney was born. Do those black circles on this dog's back look familiar? They should. Mickey Mouse had its first animated film in 1927, which lead to many more. 
Mickey Mouse and the shape of his head quickly became a symbol for Disney, which continues to be used today as part of the logo. This dog has the perfect outline of Mickey Mouse's head on its side, which is pretty remarkable.
Christmas Year Round
As soon as December rolls around, it is time to pull out Christmas ornaments, set up a Christmas village, and decorate a real or fake Christmas tree. The holidays are a lovely time for families and friends to come together and celebrate with good food, laughter, and drinks.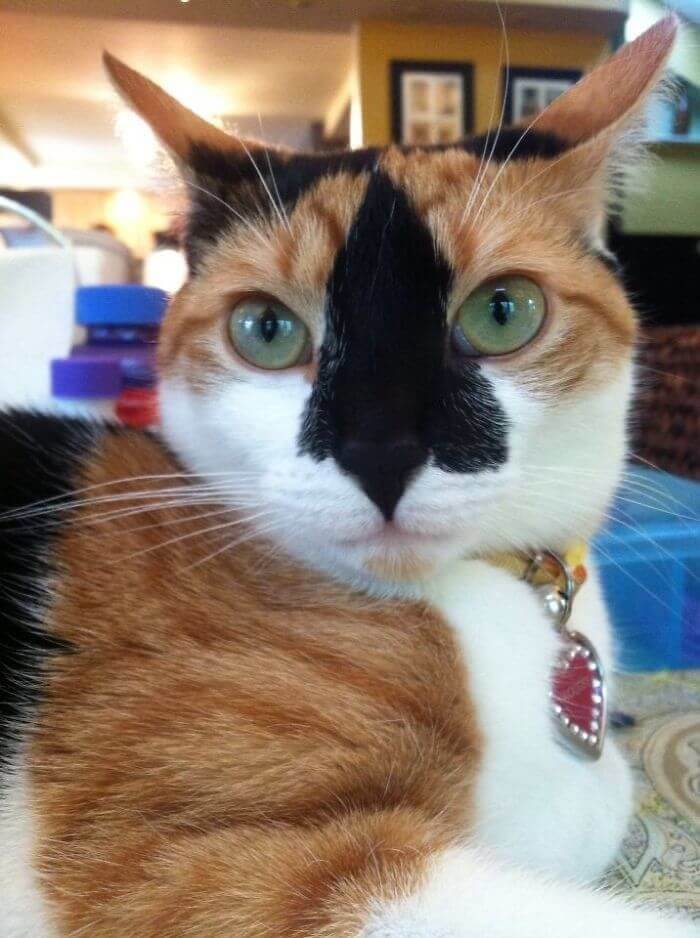 Most calico cats have tri-color markings in black, orange tabby, and white. This calico has all of those, but its face has a nice black Christmas tree right in the center of it. It is perpetually wishing everyone a happy holiday.
A Tad Confused
Life is full of confusing moments, and most people use their eyebrows to express that confusion. Moving an eyebrow up or an eyebrow down can create a variety of different reactions, but as soon as they make that V-shape it is obvious that the feeling being felt is confusion.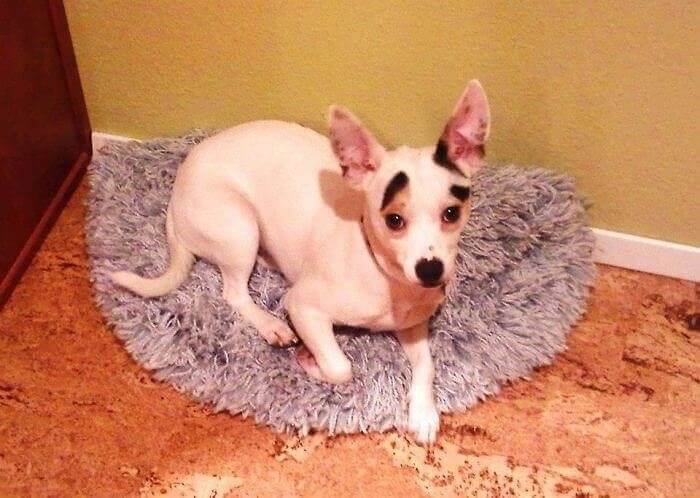 In yet another case of doggy eyebrows, we have this little guy who looks perpetually perplexed by whatever is going on around him. Did his owner just ask him a question he doesn't know the answer to?
Number Two
Anyone who competes in sporting events knows, if you're not first, you're essentially last. There is nothing quite like coming in first place, but if it is the Olympics, then coming in second is pretty good as well. A silver medal is nothing to be ashamed of. This little kitty knows what it is like to always be number two.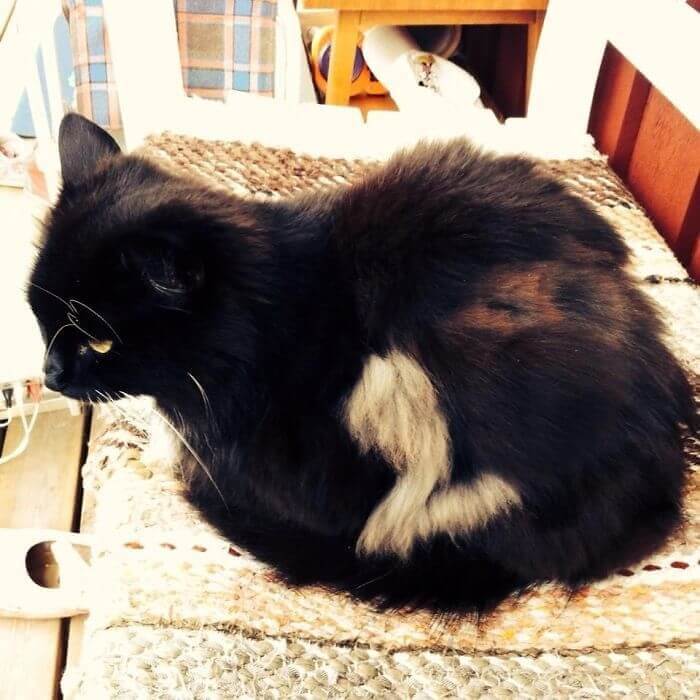 Unfortunately, that white two on its fur is there forever. This cat may not know what it is like to be number one, but who cares about that when you have kind cat parents who adore you.
Got Milk?
For humans, the calcium provided by milk is very important for preventing diseases like osteoporosis. In fact, there is an ongoing campaign that started in 1993, called "Got Milk?" where celebrities from around the world are pictured holding a glass of milk with big milk mustaches.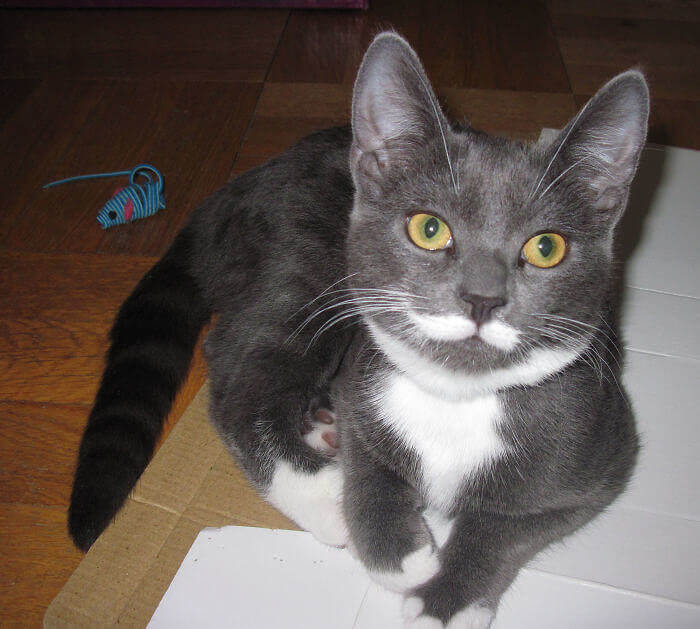 Usually, it is only humans that feature in the campaign, but this grey cat might just be a contender for the next editorial. It has a natural furry milk mustache which is just begging to be photographed. 
Put A Bow Tie On It
There is an episode of the IFC television show Portlandia where the characters put a bird on everything to make it cool. Bow ties are one of those accessories that class up any outfit for men or women. This bear got lucky and was born with its own accessory. 
Instead of needing to buy a bow tie, this bear has a built-in one on its chest. See that white speckled fur around its neck? That is a 100 percent all-natural bow tie that can't be found in any store.
The Ultimate Fan
They don't make rock music the way they used to in the 1970s, and one of the most well-known bands of the time was the Australian rock group AC/DC. This band started rocking in 1973, and their music has had some real staying power. 
In a pretty amazing feat of nature, this turtle's shell formed with the name AC/DC in its markings. By default, this turtle is now the ultimate fan for the band, and no other bands can compare. Maybe KISS will show up on another turtle's shell if they are lucky.
Yin And Yang
The concept of yin and yang stems from Ancient Chinese philosophy and the belief that opposites can play a complementary role, rather than repelling each other. Whenever the yin and yang symbol is shown, it is pictured as a circle, with one side black with a white dot, and the other side white with a black dot.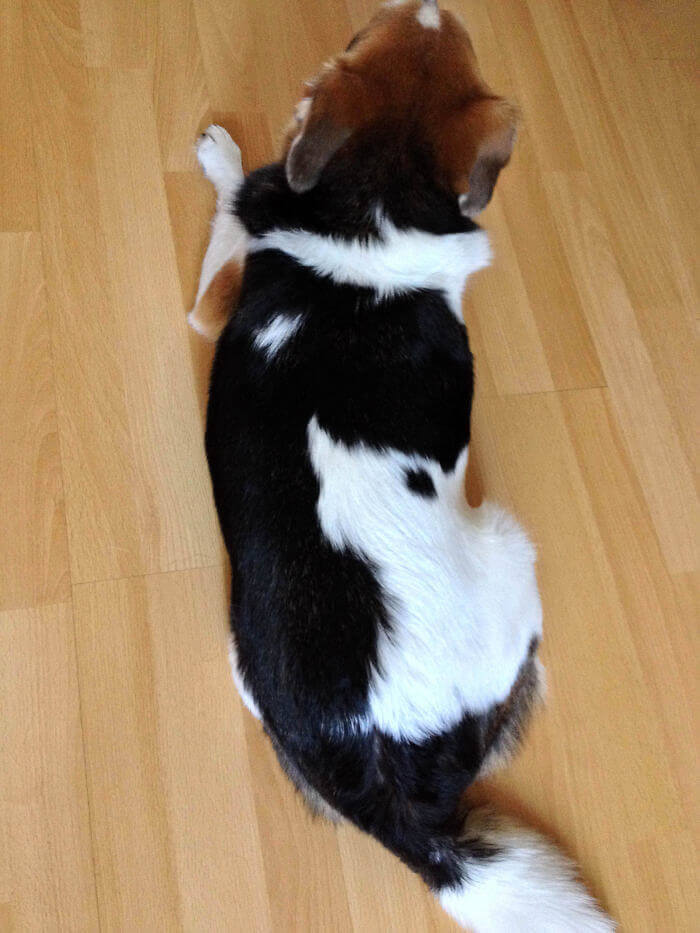 This symbol can occur in nature, and we have the perfect example of it here. This dog has a natural yin and yang in its fur which means it must have some contradictory personality traits that actually work well together.
Heterochromia
This cat is incredibly beautiful, and not just because it has two different colored eyes but also a two-tone face. There is a rare condition known as heterochromia that occurs in humans and animals, where the eyes are two different colors. That condition is the cause of these blue and green eyes.
Heterochromia itself tends to be passed through genes. It is possible that this cat had some other family members with the condition. Keep an eye out for some cats in the neighborhood with this unique trait.
The Kitty Bow Tie
Some owners like to dress their dogs and cats up in adorable outfits or give them bejeweled collars for some extra bling. That is great for animals that don't have unique markings, but sometimes a pet doesn't need any extra flair, especially if they have some already built-in.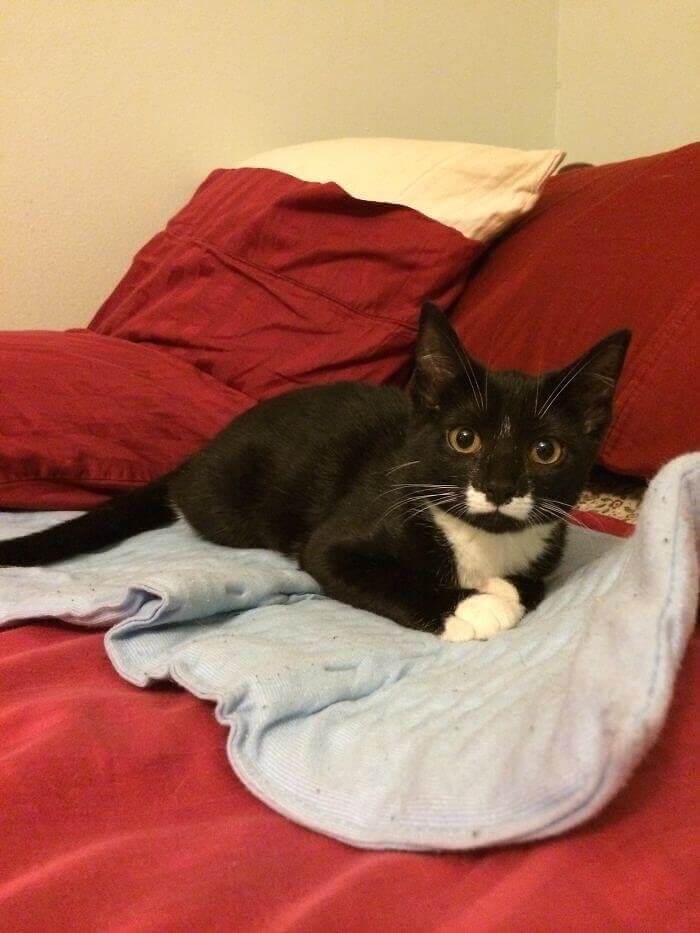 This black and white cat is fortunate that it possesses a white mustache which can also serve as a bow tie. Two in one deals like this are impossible for humans, but in the animal kingdom, anything is possible.
The Siamese Detective
Over the years, many literary detectives have been written about, and when authors describe them, they tend to include a bristling mustache. Mustaches come in all different shapes and sizes, from the handlebar to the Fu Manchu.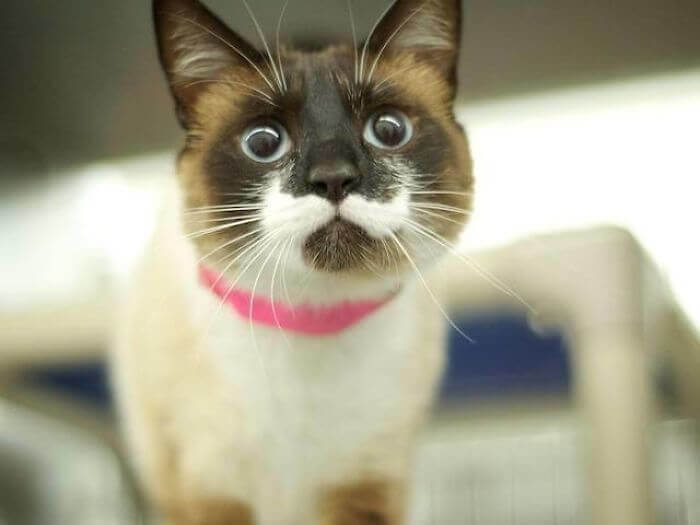 This Siamese cat looks like it is ready to solve a crime, all it needs is a monocle to go with its fancy white mustache. The ends even look like they have been curled up with beard wax. As far as cats go, this is certainly a dashing one.
Inspector Poirot
One of the most famous literary detectives of all time is Inspector Poirot. Hercule Poirot is from the Agatha Christie mysteries, and he always managed to solve the cases that crossed his desk. Poirot was also known for his unique mustache.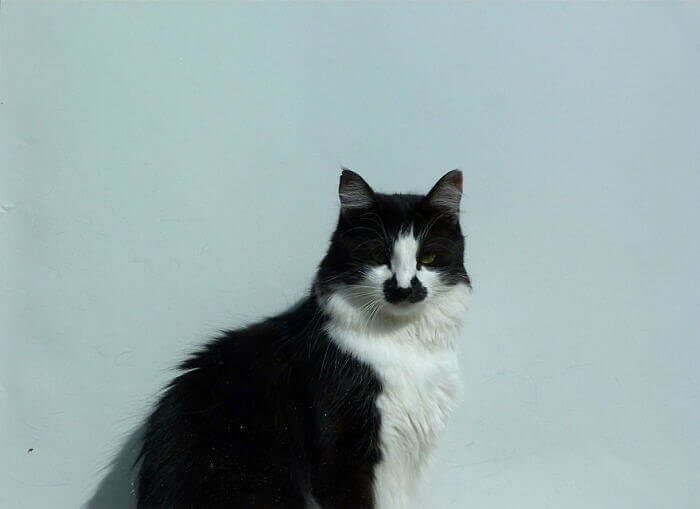 If you are wondering what that mustache looked like, then take a gander at this fancy feline. This cat's mustache is the exact same shape and size as the famed detective's.
Here Comes The Phantom
Opera is an acquired taste, but almost everyone on the planet has heard of Andrew Lloyd Webber's "The Phantom of the Opera." It tells the story of a man that haunts the Paris Opera House until he begins to fall in love with a young opera singer who is working there.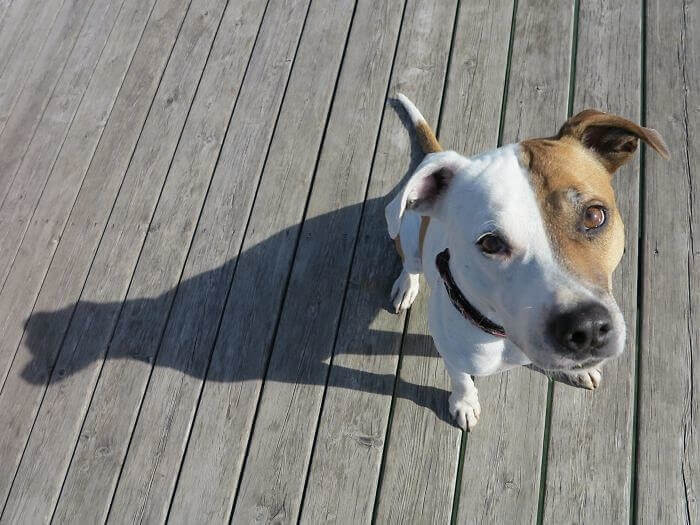 Throughout most of the opera, the Phantom wears a half mask that disguises part of his face. That half mask looks very similar to the white markings on this dog's face. The owners should have named him Phantom if they didn't already.
Panda Dog
With so many exotic and wondrous animals in the world, it is impossible to see them all in their natural habitats. Zoos are good places to keep endangered species safe, and one of the animals often see at a zoo are pandas. These loveable black and white bears enjoy eating bamboo and rolling around.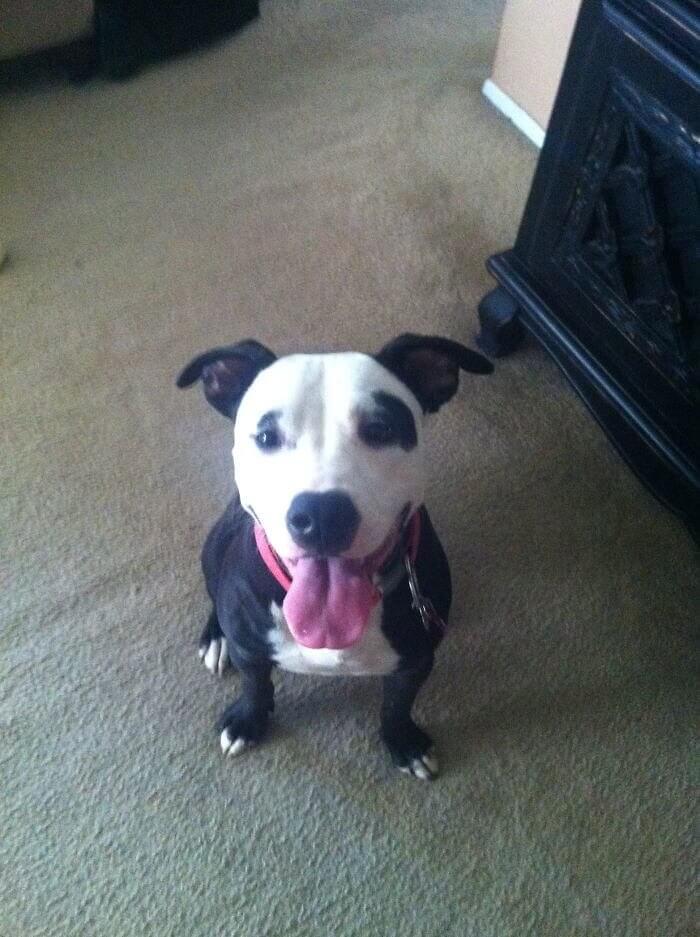 Pandas tend to have distinct black markings around their eyes, and this dog shares those markings. There hasn't been any inter-species breeding here, but the markings do resemble that of the cuddly bears that originated in China.
Guess The Breed
Mixing dog breeds is pretty standard these days. Golden doodles are a mix between a golden retriever and a poodle, for example. But have you ever seen a dalmatian mix that didn't turn out quite as expected?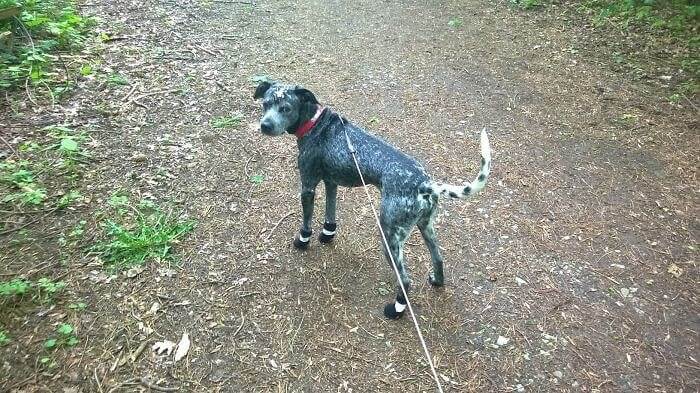 This striking dog is half dalmatian, but you would only be able to guess that if you had a look at its tail. The traditional white coat and black spots cannot be seen on the body. All that remains is a speckled tail which is pretty darn cute.
A Dog Full Of Heart
Many animal breeds are recognized by their unique markings. For example, moon bears in Korea have a crescent-shaped moon under their necks. In Slovakia, this shaggy dog was born with a special white shape on its chest.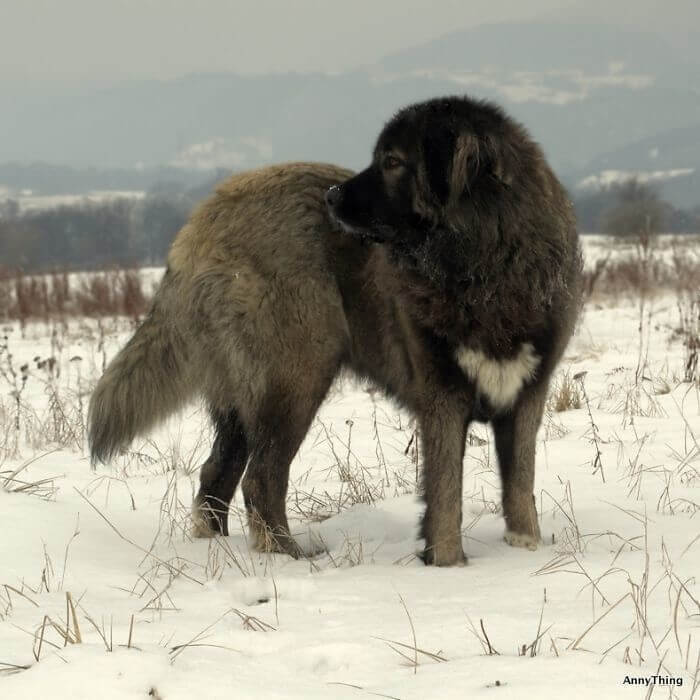 Furry white hearts seem to occur pretty frequently in nature, and this dog is wearing its heart right there on its chest, instead of its sleeve. It is pretty heartwarming to see all of these hearts.
Super Cow
In the DC Comics world, next to Batman is Superman. Superman is an alien that hails from the planet Krypton and he has a pretty unique symbol that he wears on his Superman uniform. In fact, that symbol looks remarkably like the one on this calf's forehead.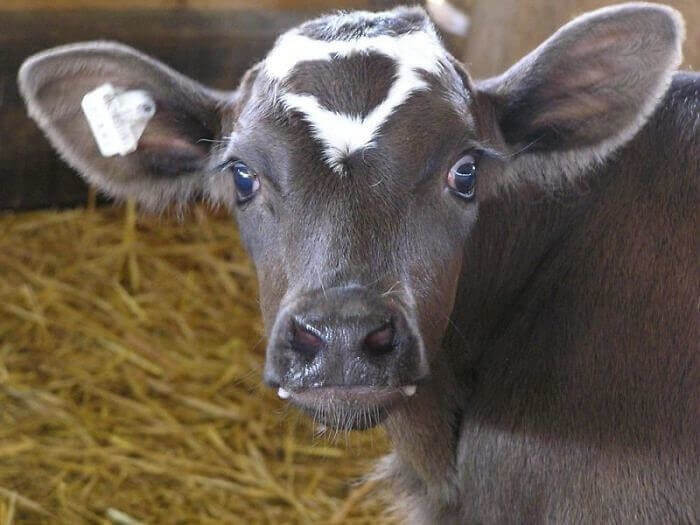 Superman did grow up on a farm, so maybe some of his superpowers wore off on this little one. It is pretty neat to see fictional symbols occur in real life, like this one.
The Joker
Continuing with our DC Comic thread, we come to the villain side of the universe. Batman and Superman symbols have been seen, but now here is a dog that looks just like the Joker.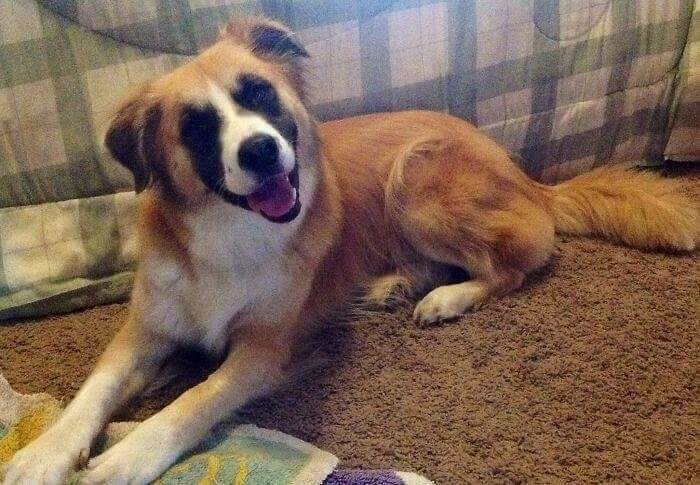 Those black eye markings combined with the white fur make it look like this dog has just painted his face and is about to put his Joker suit on. We're sure this dog is friendly, but his face is eerily similar to Heath Ledger's Joker face.